Archive for the 'Recipes' Category
This shop has been compensated by Collective Bias, Inc. and its advertiser. All opinions are mine alone. #OwnWhatYouEat #CollectiveBias
Gosh 2018 already!  Let's make 2018 OUR year!  Let's make a list of what we want to accomplish, no matter how big or how small and let's check everything off that list! You can start small taking it day by day to 'things I want to accomplish this year'. Own 2018 folks. And OWN IT with Kellogg's Special K®! Life is anything but simple for most of us. Many are working at least one job then when you add in family life, activities, errands, responsibilities and everything else, we often don't take the time for us. Well I'm sorry but that needs to stop – myself included! I work 3 jobs –  yes 3. Not because I have to but because I'm one that can't sit still. I work The Kitchen Whisperer full-time, I have a full-time IT job and I also do consulting work on the side. Add in remodeling our entire house, maintaining Mr. Fantabulous' company website and regular household items there just doesn't seem enough time in the day for me.
One thing though I do make time for is delicious breakfast from Kellogg's Special K®!  Have you guys tried these items? OMG those cereals are INCREDIBLE!  Mr. Fantabulous and I were fighting over the box of Nourish. Needless to say that, along with the others will be added to my weekly grocery list. And I NEED to tell you about that Crustless Quiche and the Flatbread sandwich. Seriously, where have you been all my life!?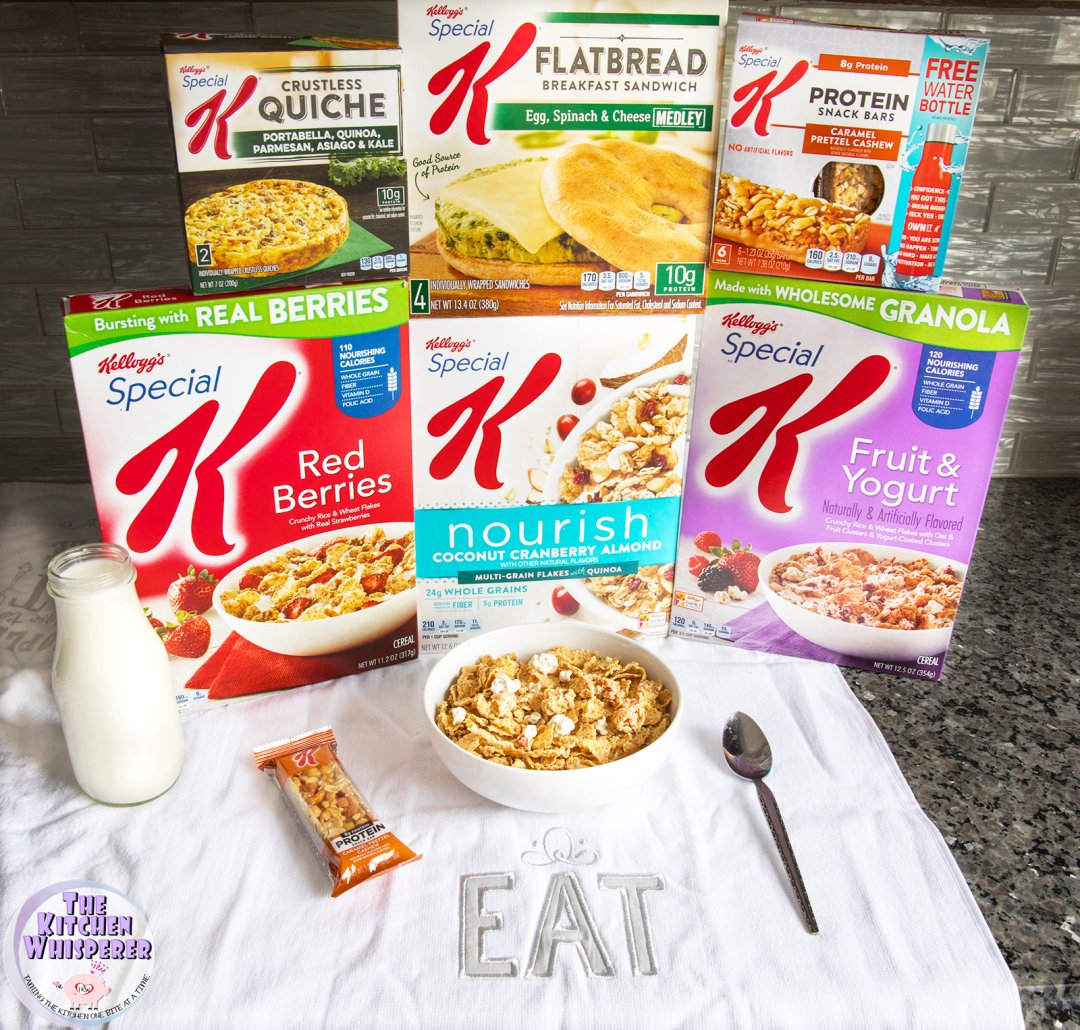 But before I go on about how amazing these items you, I need to tell you where to get them. Click on the image above to shop for these items at Target. Simply just click the tag! Trust me, buy extra!
Start off your day deliciously!
One of the best bbq pulled pork recipes out there! Bold, flavorful, tender and perfect for weekly meal prep, freezer meals or a killer pulled pork sandwich! Find out how to make it in no time thanks to the pressure cooker!
All aboard the Instant Pot/Pressure Cooker train folks!  CHOO CHOO! lol God I love pressure cooking!  But then again, you kind of already know that considering I post so many recipes and have been preaching about it for years. Raise your hands if you got one for the holidays?  Raise your hands if it's still on your wish list. Hmmm…are we at the point yet where some of you have more than one pressure cooker? *raises her hand*  Yeah, at one point I had 3 of them. I mean in all fairness I was testing them out. I did end up giving Mama Fantabulous my smaller 6 quart one.
Now is the time of the year when pork butts and shoulders are the cheapest. They may go a tad cheaper in the warmer months for cookouts and bbqs but in the winter, at least in Pittsburgh, they are pretty cheap. It's football (and hockey) season which means everyone and their mother makes pulled pork. Every get together, game night, football game, poker night has pulled pork in some fashion.
Today I'm sharing another version of mine. The last one I shared with you (a million years ago) was with my Bacon BBQ sauce (which to date is still one of my top sauce recipes!). That Bacon BBQ Pulled pork was epic but this one, I'm kind of crushing hard on this one.
You're definitely want to make this for your freezer meals!
If you can measure, mix and be patient, you can make one of the most delicious no knead bread around!  With hints of orange zest, cranberries, raisins and almonds, it's practically a dessert!  So sweet no butter is needed!
Seriously is there anything more perfect than a slice of warm, crusty bread straight from the oven? Well okay, bacon and chocolate but those are foods from the Gods and pretty much sent from heaven above and don't count (at least not in this post). Bread was the first thing I ever learned how to make actually. I was 3 years old, yes 3 – I have a weirdly odd memory. Like I can remember every single detail about my first birthday from sitting in my high chair to who sat where. Am I like a one-off case or are there some of you like that? I definitely don't possess an Eidetic (photographic) memory though Mr. Fantabulous begs to differ as I remember EVERYTHING – the good, the bad and the ugly. lol
But yeah back to what I was saying, I was 3 years old and Mom would make homemade bread for the week every Sunday morning. I'd wake up super early and paddle barefoot out to the kitchen in my white and blue flowered nightie dragging my favorite paper-eyed teddy bear. See folks, a MILLION years ago stuffed animals didn't have "real" eyes on them but rather they were this glued on heavy-duty paper cardboard crap. I'd put my bear in the chair while I crawled up onto the end of the table. She'd have her dough board out (god what I wouldn't give to have hers), flour would be all over the table (and her) and she would be rolling, kneading, folding and forming like a machine. One day Mom gave me my own rolling pin and had me stand on a chair while she stood behind me showing me how to measure and mix then eventually knead. As she was showing me how to make this she was explaining things to me – why we put ingredients in a certain way, what to do when something isn't right, how to fix it and most of all to just have fun doing it. I'll never forget that experience.
Nowadays when I make homemade bread I rarely knead it by hand. The convenience of our stand mixers with dough hooks save us the effort. However, when I'm having a super bad day and need to take my frustrations out or I'm simply just missing Mom, I'll make dough from scratch all by hand just like she did.
You're seriously going to want to make 2 of these loaves! AMAZING!
You liked. You shared. You tagged. You Instagrammed. You tweeted. These are the top loved recipes of 2017 that YOU loved the most!
This is one of those posts that always brings a smile to my face and honestly, helps me more than you'll ever know. This gives me an idea on what you guys are and are not into. I get insight on what types of recipes you want to see and maybe less of ones that you don't. I have a TON of recipes for 2018 already – yes, even 1 day into the year and a bunch of ideas for new recipes thanks to looking at these results.  My notes include:
♥ More Pressure Cooker recipes
♥ More Sheet Pan Recipes
♥ Dear Lord woman, give us more pizza recipes (loved that request!)
♥ More family-style meals and healthy weekly meal prep ideas
Got it and that's what I plan on doing!
Last year was SUCH a fun year for me. I started working with a bunch of new clients while creating even more deliciousness with those that have been with me since the beginning. I wish you guys could see my notebooks of recipes that I still have yet to share. I literally have enough written up (and most photos taken) to issue a cookbook. Speaking of… yes, I really, REALLY want to do that but I need a publisher for that as I'm not sure how to go about doing it myself. So if you're in the business or have connections, let's work together!
Farewell to 2017 and let's EAT in 2018!
This Cowboy BBQ Beef, Bacon & Bean Chili is a hearty, stick to your ribs, chili packed with all the fixins' whether you're rustling up cattle on the range or the kiddos for practice.
Yes, another chili recipe folks – I'm in a 'mood' for chili. It's winter here in Pittsburgh and last night it was butt cold. Like we're talking single digits here. I just can't do the cold weather any more; it just goes straight through me.  And since I don't like in Bora Bora or Arizona where's always warm, I go for foods that warm me from the inside out. A few weeks ago I posted my Pumpkin Beef Chili which, has received RAVE reviews! Now if you still on the fence, just read the comments. Have faith and try it. I actually had someone make it as part of their Christmas dinner and LOVED it!
So this chili is completely different as well. It's kind of like a cross between a stew and a chili with a hint of bbq. Should I call it a Stewli?  What about Chilew? I had bought some boneless beef shoulder ribs a million years ago and stuck them in my freezer.
…to only be forgotten about for several months.
Do you do that too? Put something in the freezer only to forget about it only to find it later? It's like a foodie Christmas!  LOL
Mosey on over to grab the recipe!