Archive for the 'Cookies' Category
This shop has been compensated by Collective Bias, Inc. and its advertiser. All opinions are mine alone. #TeaProudly #CollectiveBias
These Honey Lemon Madeleines are soft and tender cake-like cookies that pair perfectly with your freshly brewed cup of Bigelow Constant Comment tea! 
Madeleines are one of those desserts where it's a cookie but it's a cake at the same time. You see the texture is a cross between a cake for the crumb and texture but is made as a cookie with an ever-so-slight crisp edge. They appear to be super delicate and something that belongs in a French bakery. However, you don't have to live in Paris to have them nor do you have to travel to a bakery to get them. You can make these at home and bring a little bit of Paris to you!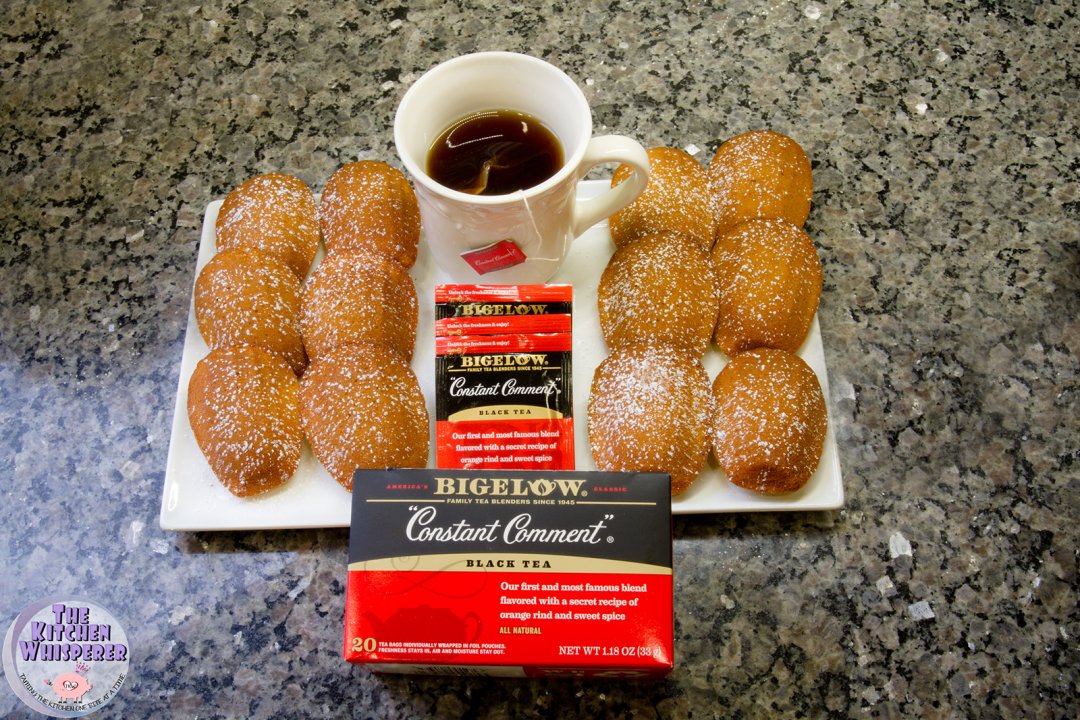 First thing is you need to get yourself some Bigelow Tea! Hover over the picture above to click through to Walmart.com and buy it! While you're there grab the rest of the ingredients to make these delicious madeleines!
Pour a cup of Bigelow tea and join me for a chat!
Taking PB&J to a whole new level! Crunchy chocolate pretzel crust, raspberry awesomeness, creamy 'butter' filling, and decadent chocolate ganache make these bars over the top CRAZY!
So this recipe is one of those "I need something sweet and I don't care if I have to eat peanut butter out of the jar" type of recipes. Actually full disclosure, that's how this recipe came to be. I was starving and wanted something sweet but also something fast. Peanut butter!  Peanut butter is my go-to dessert/sweet/protein/just-get-it-in-my-mouth-as-fast-as-possible food. I was in my kitchen, working on some recipes but didn't have time to make myself something real to eat so out came the spoon and jar of peanut butter.
Yes, I'm one of THOSE people who eat peanut butter out of the jar. It's my jar so I can do whatever I want. So I'm sitting there, happy as a little piggy with a newly found mud puddle when I "accidentally" grabbed the spoon from the jar of cookie butter. It wasn't intentional though I can't say if it wasn't subliminal. Anyway I was like "OH! Well that's a nice surprise!" You see I was working on my Ultimate Cookie Butter Cream pie and had it out along with a big bowl of ganache at the time.
So there I am, in the kitchen a spoon in each hand and a fretted look on my face as I really needed a third hand to scoop the ganache. That's when I decided to whip up a few buckeyes. Well about halfway through making the filling I decided to incorporate the cookie butter and then I realized I needed a textural element thus the pretzels. See while I like traditional buckeyes, I prefer a crunch to them so often I'll add pretzels to it or rice cereal.
Whether you go straight cookie butter, peanut butter or both, you're going to love these bars!
These cookies started out as just a simple chocolate chip cookie but ended up being one of the best loaded chewy chocolate chip cookie I've ever had!

So this cookie literally just happened. It didn't start off this way but dear lord I'm so happy that it ended the way it did! Since I'm not really able to cook or bake yet we hadn't really had too many desserts that took actual baking or prep work. A lot of the stuff we've been having were either no bake or super, super simple. While Mr. Fantabulous is my main chef right now, he's also still not a huge fan of cooking. Oh he loves the end game where he gets to dig in but the whole "what do you mean I have to cook this too???" is still too 'new' to him. Perhaps he thought food just magically appeared and that there wasn't any prep time to it.
But damn it… I wanted cookies. So while he was out cutting the grass I got the ingredients out…one by one. Thankfully he had the mixer out on the counter for me. Now I was going to make just regular chocolate chip cookies as those are his favorite but I was just craving a more chewy cookie, like an oatmeal raisin. Now the rest… yeah it kinda just happened.
So here's the thing, I decided I wanted oats in my cookie but I didn't want to have to chill my dough overnight to soften. That's when I recalled the 'milk oats' trick my Grandma used in her meatloaf. See she used oats in her meatloaf instead of bread. This allowed for a more moister meatloaf. But in order to get it moist, you had to soak the oats in milk. So I figured why not try and incorporate that method into a cookie?
You're going to want a eat these all yourself but please, please share!
A crispy, chewy cookie packed with toffee chips, coconut flakes, oats and other deliciousness make this cookie the perfect treat to kickstart your week! You owe it to yourself to have a batch of these in your house today!
Okay so let's be real here when it comes to Sundays…they are both awesome and sad at the same time. How so? Well awesome in the fact that most of us get to sleep in and not have to deal with that stupid alarm clock. You get to snuggle a bit longer, you don't have to deal with Monday traffic, work or putting on real pants. You can chill out all day in front of the TV or head out on all day hike. So what's the downside? Um hello, the next day is Monday. You have to get up at some ungodly hour to the most annoying sound (alarm), you sit in traffic, deal with a million emails and do that whole work thing. And there's that whole wearing real pants thing.
Now for me, my Sundays are spent mixed between laundry, yard work, and creating new recipes. And I can't forget to mention the photo shoots, TKW administration stuff and oh yeah, "me" time.
This shop has been compensated by Collective Bias, Inc. and its advertiser. All opinions are mine alone. #AllStarSnackBar #CollectiveBias
With these MVP Bars you'll be the STAR of big game!  A peanut butter pretzel crusted chocolate chip cookie topped with the most incredible chewy peanut butter marshmallow popcorn topping!
Oh how I love football season!  The tailgating, the cheering on your favorite team, the yelling at the refs over calls you think are stupid (admit it – you do it too!), the game superstitions and the food.  OMG the food!  Let's face it, if you're not playing in the actual game, the food is the second most important thing.  You need proper eats if you want to be "the house" that every one wants to be at for the big game. You could literally put out milk crates or couch cushions for folks to sit on but as long as you have a killer tv and even better food you're place IS the hot spot (well that is unless you're actually at the game).
When the folks from Orville Redenbacher® wanted a new recipe featuring their AMAZING (seriously it's ridiculously good!) Movie Theater Butter Popcorn for the Big Game I was stoked! You see I have a slight obsession with this popcorn and movie theater popcorn. Ever since I was little, going to the movies and getting my very own tub of popcorn was a huge treat.  All that butter and warm popcorn with a great movie – seriously perfect!  Popcorn to me meant happy times. It was something we'd share as a family bumping hands in the buckets of popcorn trying to get the 'best pieces".
Make these MVP bars and you will be the star of the food table!