Posts may contain affiliate links that help enable me to continue to provide you with free recipes. Please see my Privacy Policy for further details.
This shop has been compensated by Collective Bias, Inc. and its advertiser. All opinions are mine alone. #TeaProudly #CollectiveBias
These Honey Lemon Madeleines are soft and tender cake-like cookies that pair perfectly with your freshly brewed cup of Bigelow Constant Comment tea!
Madeleines are one of those desserts where it's a cookie but it's a cake at the same time. You see the texture is a cross between a cake for the crumb and texture but is made as a cookie with an ever-so-slight crisp edge. They appear to be super delicate and something that belongs in a French bakery. However, you don't have to live in Paris to have them nor do you have to travel to a bakery to get them. You can make these at home and bring a little bit of Paris to you!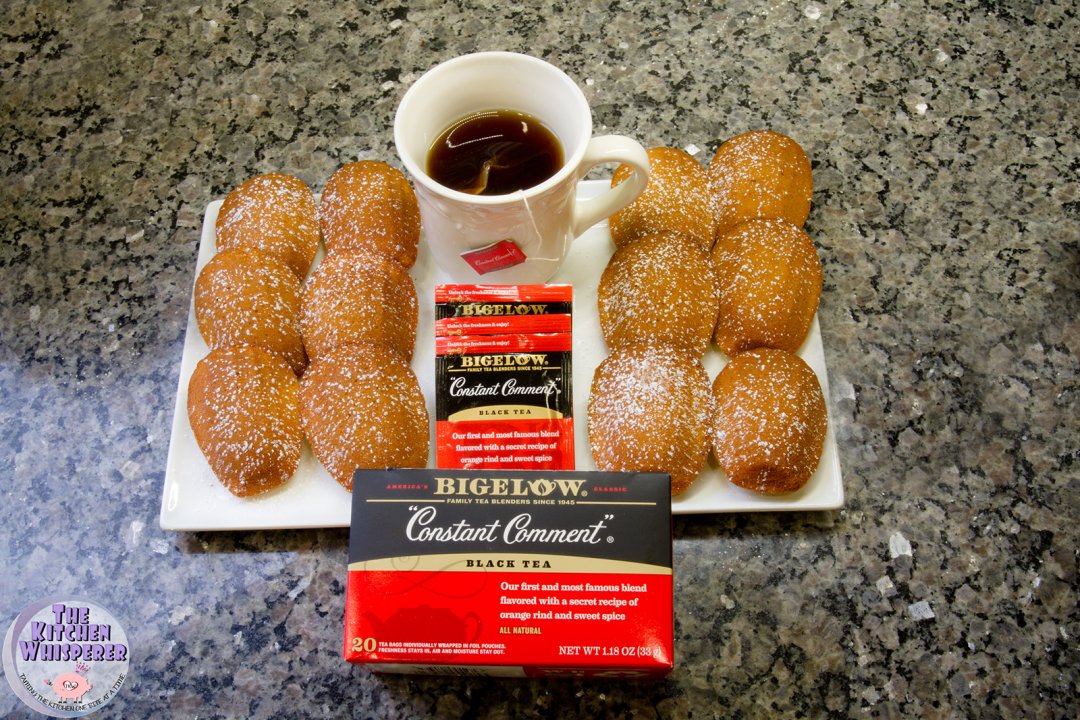 First thing is you need to get yourself some Bigelow Tea! Hover over the picture above to click through to Walmart.com and buy it! While you're there grab the rest of the ingredients to make these delicious madeleines!

Growing up, as you all know, I spent many weekends and months in the summer at my Grandma's house. She's the one that taught me some of my more old-school depression-era type recipes as well as some of the traditions I carry on today. She's also the one that started me on my love (and appreciation) of tea. Tea has such a special place in my heart. It's one of the special things Grandma and I shared. For me, a cup of warm tea is reminiscent of a hug from grandma – warm, comforting and just perfect!
As you also all know I seriously love Bigelow teas. I've yet to find a flavor that I haven't fallen in love with (like I have at least 14 different flavors in my house right now). Each one I can attribute to a memory either with my Grandma or another happy time in my life. Every morning at Grandma's house we start off our day with a cup of tea (2 cubes of sugars because I think only Grandma's bought sugar cubes) and some milk. In the afternoon, around 2 pm, we'd have another cup if we fancied in and then after dinner, with dessert was another cup. It was our thing.
Madeleines were something Grandma would make more in the winter months. Often she'd mix up the flavorings in them – orange, lemon, vanilla or anise (those I didn't like) but when she made these she only ever made a single tray of 12 as these were special treats. Today, I tend to make them more often though truth be told I still make them predominately in the winter months. However the flavors I tend to get a bit more adventurous – coconut, chocolate dips, lavender and so forth. But whatever the flavor, they are always accompanied with Bigelow tea. This tea is easily located at your local Walmart. For this flavor, Honey and Lemon, go with the Constant Comment Black Tea. The boldness of the tea pairs beautifully with the light and delicate flavor of the cookie.
Tea time with her was more than just drinking tea as it was our bonding time; our special moments. Some days we'd just have a cup of tea and other times we'd have desserts like these madeleines. Grandma used to talk about how her Mom would make these and that they would dunk these in their tea while wearing their finest outfits, hats and gloved hands. Now I'm sorry but I've tried eating with gloves on and it just doesn't work. I get that was the thing back in those days but I can't do it. I need to feel my food.
I can still remember the first time we (okay she) made these. The pan was all funky looking and not deep at all. And when they came out of the oven with these large humps I thought they were deformed and baked wrong. But then, then she flipped them out of the pan and there were those gorgeous seashell-shapes.
To make these, honestly, is quite simple. The hardest part is the waiting. You have to let the batter chill at least 3 hours though I let it go overnight. You see you don't want these to be airy or a loose crumb. You want them to be a tight crumb but still delicate. So why rest it? While the batter is resting, the starch in the flour starts to absorb the liquid thus creating a thicker batter (you'll see this when you rest the batter overnight). Also, by resting it you're letting any gluten that formed during the mixing, rest. This resting is what truly creates a delicate crumb and texture versus chewy.
So additional items you need in this recipe – Madeleine pan. Could you make them without the pan…maybe, but… it's just not the same. If you don't have one, you could use a mini muffin pan or possibly a muffin top pan. But I strongly advise using the madeleine pan
For the holidays Grandma always made tins of these along with a care package of tea and 2 teacups. Even if you got the same packages every year, you always got new tea cups. And with her, the cups were so delicate always floral. Even if you were a big burly man you got a delicate little teacup. She'd carefully package the time with pretty tissue paper and gift them to friends with such pride on her face. After a day of passing out gifts and holiday visits Grandma always made sure we'd have our own treat of tea and cookies.
Grandma, sadly, has been gone for many years now yet her memories still bring a smile to my face. Every day when I have my cup of tea I think of her and the times we spent together. It's funny how something as simple (and delicious) as a cup of tea carries such an incredible feeling for me. A cup of tea is so warm, comforting…soothing. That's exactly what my grandma was to me. She was my best friend and my mentor. Her hugs were the best and so full of love. She carried out that love through her foods and yes, even in the cups of tea we shared.
Does a cup of tea hold any special memory for you? Maybe something warm and cozy on a cold winter night while watching the snow fall? Maybe it's something that you can trust to warm you when you're chilled to the bone. Or it's something special you share with your friends to have high tea and fancy cakes/desserts. And yes, even when you were little and had all of those tea parties with your favorite stuffed animals. However you tea, make sure you #TeaProudly! For more special team moments see these Tea Inspirations to Tea Proudly!
Plus check out Bigelow tea your favorite social media channel
♥ Bigelow Tea Facebook
♥ Bigelow Tea Twitter
♥ Bigelow Tea Instagram
Print
Ingredients
3/4 cup all purpose flour, sifted
1/2 teaspoon baking powder
2 large eggs, room temperature
1/3 cup sugar
1 tablespoon lemon zest (zest of one whole lemon)
2 tablespoon honey
2 teaspoon vanilla bean paste
3 tablespoon butter, melted, cooled, and if possible fats removed leaving just the clarified liquid)
Instructions
Sift flour and baking powder, set aside.
With a stand mixer fitted with the whisk attachment (or hand mixer), whisk the eggs and sugar on medium-high until light and fluffy. ~5 minutes. Remove the bowl from the mixer, add in the lemon zest, honey, and vanilla bean paste, and mix in by hand.
Fold in the flour mixture until blended. Fold in the melted butter (if possible try to not add in the fat solids if you can't it's fine. The cakes will be just slightly denser). Do not stir together but rather fold in.
Put the batter into a bowl and press plastic wrap down on top of the batter to prevent a skin from forming. Chill at least 3 hours though overnight is best.
When ready to bake preheat the oven to 375F, rack in the middle. Spray each madeleine pan with cooking spray and set aside.
Remove the batter from the fridge and discard the plastic. Put the mixture into a piping bag and pipe the mixture into each madeleine shell (the mixture will be thick). The shells will be almost full (it should leave a 1/4" gap all the way around). Pick up the pan and tap it against the counter a few times. It's OK if the batter doesn't spread it in the shell. You can wet the tip of an offset spatula to gently spread it out but it will spread out as it bakes.
Bake for 8-11 minutes or until the cookies are puffed and golden brown. You should be able to press the bump and have it spring back.
Remove the cookies from the oven, allow to rest for 2 minutes in the pan and carefully flipping out on to a cooling rack. To help you may use a thin blade to nudge them out.
Top with confectioners' sugar if desired.
Recipe Card powered by