You've prepped everything, you followed the recipe and all of a sudden your Instant Pot gives you an error. Don't panic!  I'll decipher some of the error codes for you!
By now many of you have fallen completely in love with your Instant Pot and pressure cooking. I told you guys this years ago that you'd love it and that it's not scary and it's super easy and it's something you wished you started doing years ago. Wow, that's a lot of "ands". My English major niece, Ashlee is probably rolling her eyes thinking "I am NOT related to that grammatically-incorrect lady" lol. Love you Ash!
But yeah, told you so!  It's literally one of the best re-inventions of kitchen porn equipment in eons. No longer is there a need for 10 different pieces of bulky equipment when a single, glorious pot can do the jobs of all of them?! However pressure cookers, even though they have a million and one safety precautions scare folks when you see an error code. Rightly so, we're programmed to be on higher alert when we see something like that. Well today I'm helping you work through those codes and, work through them.
So what prompted all of this, honestly, was a 911 panic email I received from a co-worker and her dear mother. You see Heather had received a new Instant Pot for Christmas per my recommendation to Alexis, her daughter. And from day one Heather had been in love with it – again, rightly so. The text came in with a "tone" of panic and fright however I was stuck on a conference call with our Asia counterparts and couldn't call her back thus we opted for texting.
This shop has been compensated by Collective Bias, Inc. and its advertiser. All opinions are mine alone. #OwnWhatYouEat #CollectiveBias
Gosh 2018 already!  Let's make 2018 OUR year!  Let's make a list of what we want to accomplish, no matter how big or how small and let's check everything off that list! You can start small taking it day by day to 'things I want to accomplish this year'. Own 2018 folks. And OWN IT with Kellogg's Special K®! Life is anything but simple for most of us. Many are working at least one job then when you add in family life, activities, errands, responsibilities and everything else, we often don't take the time for us. Well I'm sorry but that needs to stop – myself included! I work 3 jobs –  yes 3. Not because I have to but because I'm one that can't sit still. I work The Kitchen Whisperer full-time, I have a full-time IT job and I also do consulting work on the side. Add in remodeling our entire house, maintaining Mr. Fantabulous' company website and regular household items there just doesn't seem enough time in the day for me.
One thing though I do make time for is delicious breakfast from Kellogg's Special K®!  Have you guys tried these items? OMG those cereals are INCREDIBLE!  Mr. Fantabulous and I were fighting over the box of Nourish. Needless to say that, along with the others will be added to my weekly grocery list. And I NEED to tell you about that Crustless Quiche and the Flatbread sandwich. Seriously, where have you been all my life!?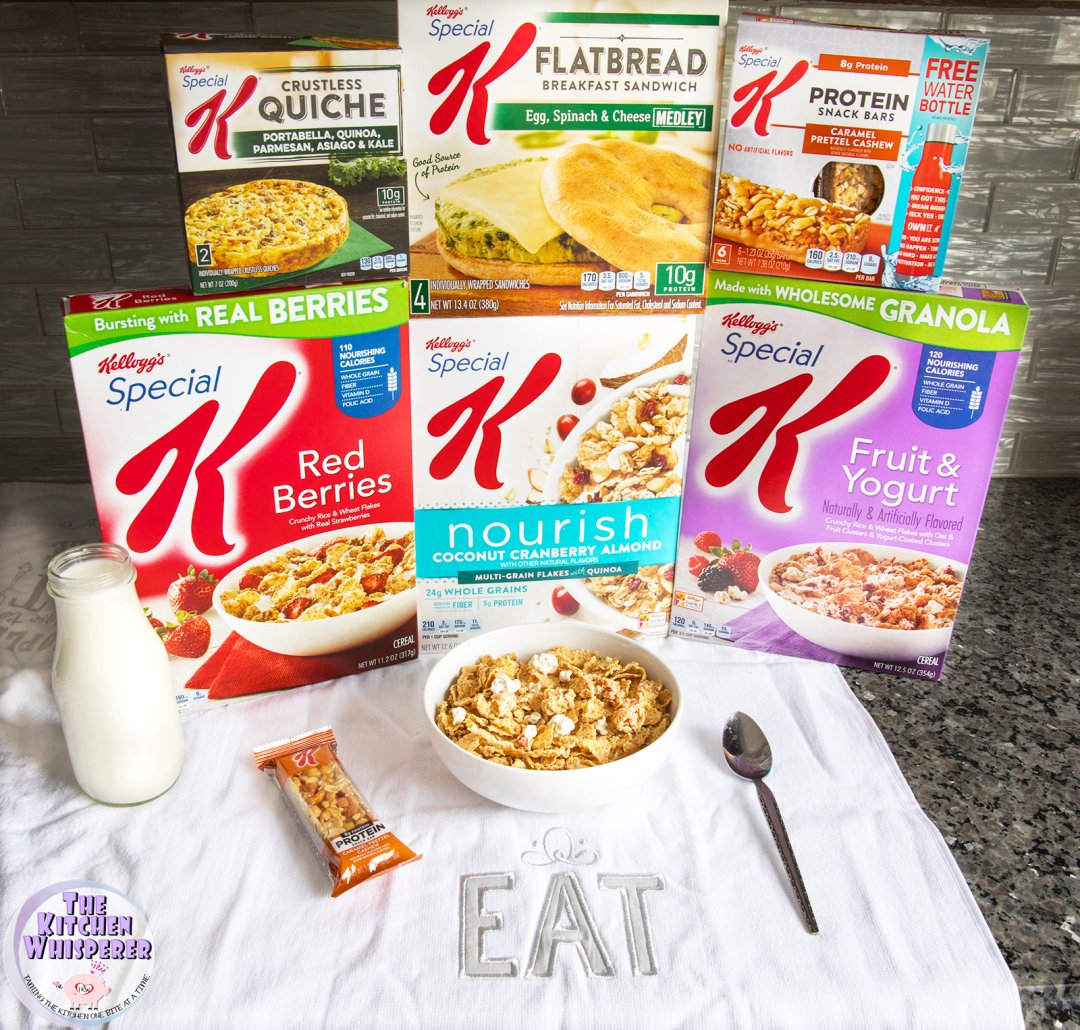 But before I go on about how amazing these items you, I need to tell you where to get them. Click on the image above to shop for these items at Target. Simply just click the tag! Trust me, buy extra!
Start off your day deliciously!
Get out of that same ol' recipe rut and try one of these delicious and easy recipes this week! This week I highly recommend making the Meatball Stuffed Manicotti and the Beef 'n Cheddar Stuffed Potatoes!
Happy Sunday TKW Family!  So for many of us, it was our first full week back to work. Kinda sucked didn't it? lol Don't get me wrong, I love what I do but man it sure was nice having short weeks. And since we didn't hit the lottery when it was like 500 million dollars it's back to the ol' grind for pretty much all of us. Though truthfully I can't really complain because honestly, if I won, I'd still have to work. Oh sure the first few months I'd not work to take it all in, get my "new life" set up –  legal stuff. However after that I'd go back to being Simply Lori. I'd most definitely expand TKW. I'd open up a brick and mortar, offering classes and deliciousness. I don't necessarily want a full-fledged restaurant. Lord know. I know how much work went into running a pizza shop. I want no part of a full-on restaurant. But my "day" job … honestly I think I'd miss it or at least that type of work. I'm such a nerd at heart, loving technology, code and compliance.
Hmmm… what about you? If you won, would your outlook on work change? What would you do?
So last week it was typical Pittsburgh weather – mid 40's at the beginning of the week, mid 60's on Thursday and -8 on Friday with 8″ of snow. Pittsburgh – the only city where you get all for seasons in 1 week. Heck, sometimes in one day even. Ah but I love this city. It's absolutely beautiful and has such a home-town feel to it. You feel welcome here. I was ridiculously busy with TKW stuff though not so much on publishing posts. Sorry about that. I strive to post 4 -5 times a week but sadly I was only able to do 3. I had a ton of "office" work to get done so that took up almost all of my time. Then Mr. Fantabulous' company issued out a new kit to Facebook only first and it was insane the number of orders they got. His company is the only one in the world that creates this kit for the 2016 Camaro and well as you can imagine, it was very, VERY well received. So with that I had to help out though today I'm stuck, after I get my work done, updating his website to add the new part and items. Ugh… If you know someone who builds out an e-commerce website, send them my way. His company is actually interviewing for a new web company/person to redesign his site.
I think we really need to move to 4-day work weeks.
One of the best bbq pulled pork recipes out there! Bold, flavorful, tender and perfect for weekly meal prep, freezer meals or a killer pulled pork sandwich! Find out how to make it in no time thanks to the pressure cooker!
All aboard the Instant Pot/Pressure Cooker train folks!  CHOO CHOO! lol God I love pressure cooking!  But then again, you kind of already know that considering I post so many recipes and have been preaching about it for years. Raise your hands if you got one for the holidays?  Raise your hands if it's still on your wish list. Hmmm…are we at the point yet where some of you have more than one pressure cooker? *raises her hand*  Yeah, at one point I had 3 of them. I mean in all fairness I was testing them out. I did end up giving Mama Fantabulous my smaller 6 quart one.
Now is the time of the year when pork butts and shoulders are the cheapest. They may go a tad cheaper in the warmer months for cookouts and bbqs but in the winter, at least in Pittsburgh, they are pretty cheap. It's football (and hockey) season which means everyone and their mother makes pulled pork. Every get together, game night, football game, poker night has pulled pork in some fashion.
Today I'm sharing another version of mine. The last one I shared with you (a million years ago) was with my Bacon BBQ sauce (which to date is still one of my top sauce recipes!). That Bacon BBQ Pulled pork was epic but this one, I'm kind of crushing hard on this one.
You're definitely want to make this for your freezer meals!
Have extra pancake batter but not a lot of room in the freezer to store your cooked pancakes?  No problem, just freeze the batter!  Find out how today!
In my house freezer space is a premium. Like we're talking trying to find 5 acres of prime real estate in Malibu for a bargain. It's pretty much impossible to find and when you do find it, it's costing you an arm and a leg. Or in my case I'm forced to make a whole ham, turkey, 2 roasts and warm up 2 containers of chili just to make room for new stuff. LOL  I can't help it, it's how I was raised. Growing up we had 2 HUGE chest freezers. One was in the kitchen (with a regular fridge/freezer) and the other was 12′ long and you could pretty much fit a horse in it. And Mom kept all of them stuffed to the brim with homemade foods. Mom was a kitchen GENIUS when it came to making something out of nothing AND making it delicious. She cooked for pretty much a football team every night as it never was just the 8 of us. Oh no. We always had some neighbors, random friends and heck, even the mailman stop by for one of her delicious meals.
So that style of cooking – cooking for an army was how I was trained. Now it's taken me DECADES to learn how to cook for just the two of us but if you ask Mr. Fantabulous I still cook way too much of something at a time. I can't just cook a meal that there are no leftovers. There were times when we couldn't afford to go to the store to buy something but Mom came to the rescue with one of her bulk freezer meals.  One thing she always, ALWAYS made in bulk were pancakes. We're talking 30-40 dinner plate size pancakes easily were in our freezer at one point. Having 4 brothers that were bottomless pits, Mom refused to spend every waking moment in the kitchen catering to them. So when they were starving (which was pretty much ever 30 minutes) they could grab a frozen pancake, toast it and they were good to go.
I'll do that now though not make 30-40 but rather 4-6 at most. This is something Mr. Fantabulous can make himself when he gets the midnight munchies (he's a night owl) or when I'm not home and he's starving. They freeze beautifully but like I said, I don't always have freezer space for that. Well, what I started doing was freezing the pancake batter. Now keep in mind this is ONLY for pancake batter, not Belgian Waffle batter. You can't freezer that batter as you'll deflate the eggs. Don't try it – I already tested it and it failed.