Posts may contain affiliate links. Please see my Privacy Policy for further details.
This shop has been compensated by Collective Bias, Inc. and its advertiser. All opinions are mine alone. #OwnWhatYouEat #CollectiveBias
Gosh 2018 already! Let's make 2018 OUR year! Let's make a list of what we want to accomplish, no matter how big or how small and let's check everything off that list! You can start small taking it day by day to 'things I want to accomplish this year'. Own 2018 folks. And OWN IT with Kellogg's Special K®! Life is anything but simple for most of us. Many are working at least one job then when you add in family life, activities, errands, responsibilities and everything else, we often don't take the time for us. Well I'm sorry but that needs to stop – myself included! I work 3 jobs – yes 3. Not because I have to but because I'm one that can't sit still. I work The Kitchen Whisperer full-time, I have a full-time IT job and I also do consulting work on the side. Add in remodeling our entire house, maintaining Mr. Fantabulous' company website and regular household items there just doesn't seem enough time in the day for me.
One thing though I do make time for is delicious breakfast from Kellogg's Special K®! Have you guys tried these items? OMG those cereals are INCREDIBLE! Mr. Fantabulous and I were fighting over the box of Nourish. Needless to say that, along with the others will be added to my weekly grocery list. And I NEED to tell you about that Crustless Quiche and the Flatbread sandwich. Seriously, where have you been all my life!?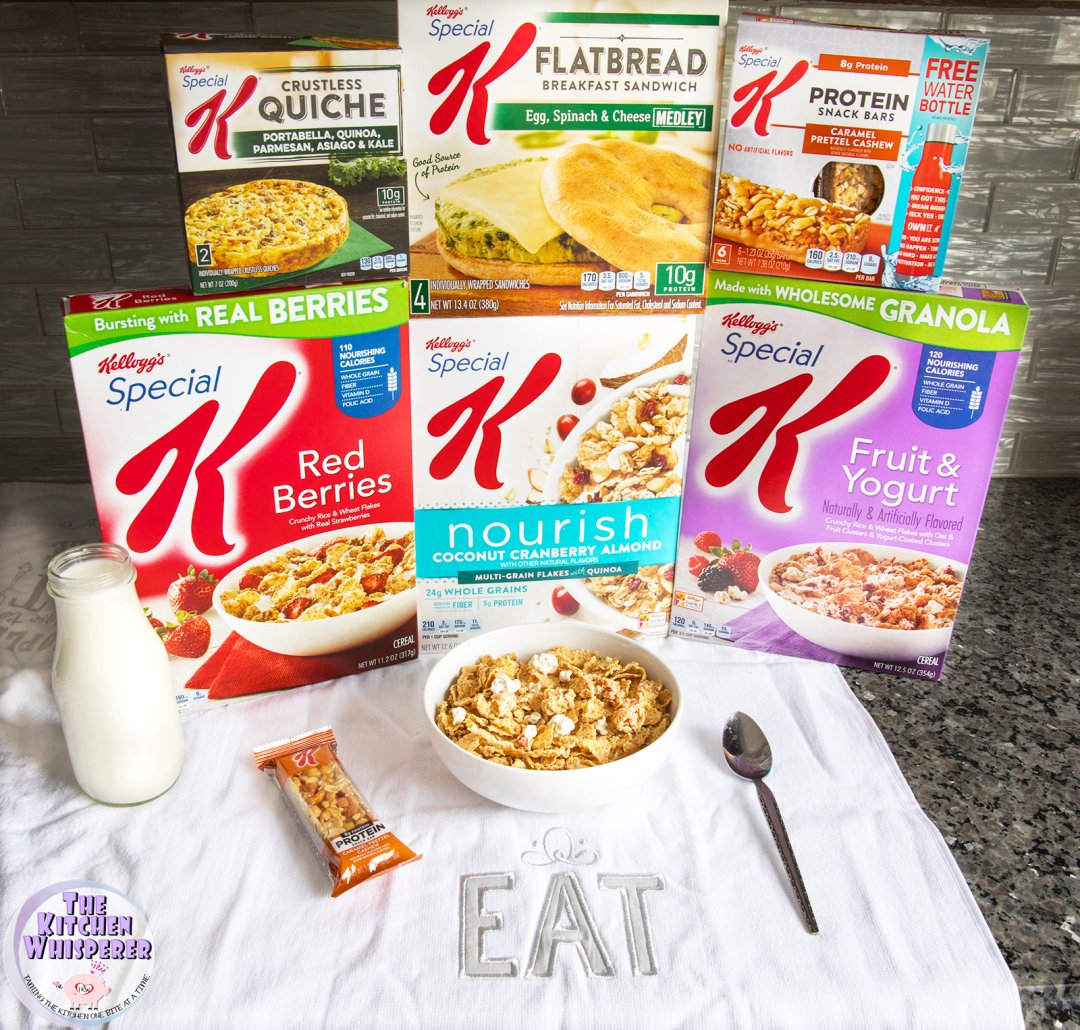 But before I go on about how amazing these items you, I need to tell you where to get them. Click on the image above to shop for these items at Target. Simply just click the tag! Trust me, buy extra!

Now my weekends aren't like most folks. It's the life of a chef, blogger, what not. And when you run your own company as well like I do you have to make sacrifices. Life of a blogger isn't as easy at you think but honestly I wouldn't change a thing as I am blessed to live out my passion and create for you all delicious recipes and recommend incredible products! Saturday's are my 'big' day. While most folks are sleeping in past 10, spending the day having coffee in some cafe, catching a movie, hanging out with friends, my day involves grocery and supplies shopping, errands, recipes, photo shoots and 9 million other projects. Then maybe at 10pm at night, MAYBE, I'll get to have some quality time with Mr. Fantabulous.
How about you spend one day with me and see what all I do and how I'm OWNING 2018 my way?! For me I started my day off with a bowl of Special K® Nourish Coconut Cranberry Almond Cereal and a Special K® Portabella, Kale and Quinoa Crustless Quiche. I needed the energy boost these delicious items had to help me push through my day as I had a lot, A LOT, on my to-do list for the day. Have tried their Nourish cereals? OMG you HAVE TO! That cereal was so delicious and packed with an almost tropical taste with the big pieces of coconut! What I love about these cereals is that it has wholesome ingredients so I can feel confident giving my body what it needs. But wait, I NEED to tell you about that quiche! Seriously you need to buy these as they are incredible! So packed with flavor and ready to go in just a few minutes. These were exactly what I needed to get my butt in gear and rock out this day!
I was going to OWN IT today! And thanks to Special K® products, other's are owing it too! Check it out!
As I said above "Life of a Blogger" isn't easy. Depending on your brand exposure you can travel the world representing your company with it to simply posting a recipe that gets a few views. I'm somewhere in the middle. As you can see this is what a typical Saturday looks like for me. I'm up at the butt-crack o' dawn and out the door by typically 7am. The stores aren't packed and I've already got a jump-start on my day. I'd say the only busy place is the gym which is great as those, I find, are typically the folks that are dedicated and there to work out, not meet folks. Working out is part of my OWN IT in 2018 list. Due to injuries and surgeries in the past 1.5 years I had to take time off from it. Finally I'm able to hit the weights again and spin which means I'm back on track to living a healthy lifestyle.
Just check out those flecks of kale, portabella mushrooms, quinoa and cheeses! These are perfect to sustain til lunch! Now I'm a girl that does her best to multi-task. Before I went shopping I threw one load of laundry in the wash and had my delicious breakfast (plus washed the breakfast dishes and any dishes that Mr. Fantabulous put in the sink over night).
With this in my belly I was off to take on the day!
While I was out grabbing my groceries I hit up my local Target to get some more of these Kellogg's Special K® cereals, frozen items and protein bars. They are perfect for those on-the-go and fit perfectly into my lifestyle. So many of us are into weekly meal prep that many often forget that you can totally do weekly meal prep with breakfast! That's where those Crustless Quiche and Breakfast Sandwiches come into play. Plus you can totally pack up 5 days work of cereal and milk in containers and take them into the office with him. Seriously, skip the drive-thru or the food line at work. Go with something more delicious and easier!

Plus get this, when you buy it at Target using their Cartwheel program you can get an additional 10% off their Sandwiches and Quiche! To start off my day, before I went shopping I made sure I whipped up a healthy and delicious breakfast to give me the boost of energy I needed to get my butt in gear. Those crustless quiches are seriously amazing! Just unwrap, pop in the microwave for a few minutes and you have one seriously amazing breakfast!
When I got home, before unpacking the groceries and supplies, I swapped over the one load into the dryer and started another in the wash. Seriously for just 2 people in this house you'd think we had a fashion show for how many dirty clothes we have! As the laundry was being done I put the groceries away and sat down to check my emails/social media. I had my recipes written up on what I had to make for the day and started to get ingredients out. By this time Mr. Fantabulous had gotten up and came in the kitchen. While he can most certainly make himself breakfast, I tend to make it for him. Thanks to those amazing Special K® Egg & Spinach Medley Flatbread Breakfast Sandwiches, they've made my life so much easier! He got his cereal and coffee while I simply unwrapped and microwaved them until hot all the way through.
This meal is something I know will fill him up until lunch which, more importantly, keep him out of my hair (and kitchen) while I work on recipes, shoots and wash a million dishes. It's funny as most ask why I don't use our brand new dish washer because lord knows when you create recipes like I and the number I create in a day, you have A LOT of dishes. It's simple – it can't keep up with me. While I have an actual storage room full of food props for plating and shoots, I also don't want to have a million extra plates in the house. We have our normal food plates and I have my shoot plates. While there are still a lot, I don't need a full set of every shoot plate. Plus when you create recipes you never, EVER make a recipe once. You have to make it a few times as you want repeatable quality. So that dish of pasta you may see on my website – yeah I made that same dish at least 5-10 times and washed the pot, pans, plates and so forth 5-10 times. In the winter I literally have dish pan hands. I swear I keep the lotion companies in business alone!
So while he's eating his breakfast flatbread, which I need to talk about – seriously they are super yummy! These are awesome to pack in a lunch and take to work, school or what not. As long as you have access to a microwave you're golden. These are way better than those drive-thru sandwiches! Just look at the layers of egg, cheese, spinach! And I LOVE LOVE LOVE how thin the flatbread is with a bagel-like appearance. Less bread means less carbs! BONUS. That's another way we can all OWN 2018. Cut back on the carbs and kick up the protein!
While he's eating his breakfast I've been hard at work getting one recipe done, plated and ready for the photo shoot. However you still get interruptions – laundry buzzer, have to check email and post status updates on social media. And also with the house remodel, he's pulling me in to help with something else. Trust me, I can plaster with the best of them now!
Special K® has snacks and cereal with the protein you need to fuel your day. By this time I had already done 2 sets of dishes, 2 loads of laundry and finished up 2 recipe shoots. It was time for a snack. That's where my Special K® Protein Caramel Pretzel Cashew Bar came in to play. At only 160 calories, 7 grams of fat and 8 grams of protein it was just enough to sustain me until lunch. And since I was so close to lunch I decided that I would have a Special K® Egg & Spinach Medley Flatbread Breakfast Sandwich. For some folks when I eat my lunch on the weekends, it's pretty much breakfast time for most as I've been up for hours, got half of my work done and I'm starving.
So you see that stack of clean dishes? Yeah – I had already washed and put away one full stack! The laundry – 2 loads going, one in the dryer and one in wash. And it's time for me to sit down, while working on a post, and have my protein drink and a protein bar.
But oh I know what I tell you guys. Check this out! What's super awesome is when you buy 3 participating products you can earn a free Swell water bottle! Check it out! I ordered 2 for us. I read on their FAQ page about the bottle – "Stainless steel, double walled, with a leak proof top. Capacity: 16.9 oz. (500 ml); Height: 10.4 inches; Weight: 11 oz". Which means it's a great size to fit in my gym bag! Also you don't need to buy all of the participating products at the same time. Participating products do not need to be purchased in a single transaction; they may be purchased at any time during the promotion period 11/1/17 – 6/1/18 . What I like about that is if you're a smaller household that you don't have to feel rushed to eat something right away or use it up quickly. I love this!
Anyway, back to my chaotic life (that I love) I also made pizza dough. Yes, on a Saturday. He wanted a different style crust than the one I made the night before. No worries. Also I woke up to a surprise of 8″ of snow. Fortunately he took care of that as it was happening so by the time I got up, our driveway was cleared. This explained why he slept a little longer. I also got pulled into helping him fish cable wires into our new office and install 3 sliding drawers on our new desks. Then there was dinner, which didn't include any of the 3 recipes I made earlier, finish up the last of the laundry and finally sitting down at my TKW computer to copy all the photos over and transcribe the recipes. I'd say by this time it was maybe 9pm? And I had been working since 7am. Again this is the norm for me on the weekend. I answered a few more emails, comments and decided to take a MUCH NEEDED SHOWER. I had sauce on my face, flour on pants, dough in my hair and just felt "kitchen dirty".
But I still wasn't done. our quality time includes a movie and at least 2 snacks. One can be chips or what not but normally I'll whip up a charcuterie board or meaty nachos. I can't complain as I've done this to myself with him. He used to be happy with a bag of potato chips or jar of queso but oh no, when you're a chef/blogger certain things are expected.
Finally it's about maybe 1am when the movie is over, the food is put away and everything is cleaned up. One final check of social media, answering of emails and writing up Sunday's To Do list and it's off to bed.
…only to get back up in few hours to do it all over again. It's a lot but you know what, if I want to succeed in 2018, if I want to OWN 2018 I have to make choices. I have to push myself as no one is going to make "it" happen for me. So join me and make 2018 yours too! How will you OWN IT in 2018? For more inspiration, check out this page!
So here are my tips for all of you to OWN 2018:
Set goals. No goal is too little. Put it on your list.
Set incremental goals. If you want to reach a big goal, break it up into steps. In order to get to Z, what are steps W, X, and Y. Check one off after you reach it. By doing this your big goal doesn't seem that big afterall!
Plan out your year/month/week/year. I have a few of these planners – one for my healthy lifestyle, one for home stuff, and one for my company. Each one serves a purpose. Plus it helps me stay more organized.
If you're a blogger print out my Blogger planner to help you keep on track! If you want to OWN IT in 2018, Print this OWN IT planner!
NEVER GIVE UP! YOU CAN DO THIS!