Add that extra "WOW" to your chili with the addition of pumpkin plus the reveal of two super-secret ingredients that will make your chili fantabulous!
So let me start off by saying the following:
No you do not taste the pumpkin in the chili.
The addition of pumpkin does NOT make the chili sweet.
No your chili does not taste like pumpkin pie – seriously?
Be adventurous.
Is it necessary to add the pumpkin? Do I really have to add it?
Let me address the last one. Yes it's necessary but no you really don't have to (wuss). I mean obviously leave it out if you're allergic to it though that's new to me. So why add it?  The addition of pumpkin puree adds that umami flavor to the chili.
"Umami? That sounds like some funky fish in the ocean!" So the easiest way to describe it is do you remember growing up you were taught about the 4 tastes – sweet, salty, sour, and bitter. You can easily close your eyes and think of a food for each taste. Well Umami is a Japanese-coined name for a fifth taste.
This chili will quickly be one of your favorite go-to chili dishes!
This shop has been compensated by Collective Bias, Inc. and its advertiser. All opinions are mine alone. #SimplyAvocado #CollectiveBias
Get festive this holiday season with this Christmas tree shaped, avocado covered, herbed cheese platter!  A sprinkling of toasted pine nuts and pomegranate seeds finish this tree off deliciously!
Oh TKW Family have I got one AMAZING recipe for you today!  Forget about everything you knew about 'cheese balls' and holiday parties as this one is a true game changer!  Anyone can make a cheese dip and shape it the shape of a ball BUT only a few, the dedicated can (and will) go that extra step and make it into a festive Christmas tree! But why stop there? If you're going to shape it, you need to decorate it, right?!  I mean set your dish apart from everyone else!  You have 2 things going for you with this recipe – presentation and FLAVOR!!
I've teamed up with the amazing folks at WHOLLY® SIMPLY AVOCADO™ today to feature their most delicious (and one of my favorites) new products – SIMPLY AVOCADO™! Like everyone else on the planet, I'm obsessed with their guacamole flavors so when they released their new SIMPLY AVOCADO™ flavor I was super excited. They were looking for easy, delicious and a great holiday recipe. Check, Check and CHECK! I am so excited to share this recipe with you guys. It's super adorable and OMG insanely delicious!
Now I'm sure at least once, in your life, you've been to a holiday party or family get together where there's a cheese ball on the table. It's either homemade or store bought and pretty much surrounded by crackers. Most are hard in texture so when you go to get some out of the ball you have to stab at it with a knife and then when you try to put it on a cracker, you end up shattering the cracker in a bajillion pieces because the cheese simply doesn't spread.
That's not the case here! It's luscious, thick, creamy, spreadable and one of the best cheese spread ball dips I've ever made!
Fa la la la… tis the season!
These cookbooks are some of my personal favorites that every foodie needs to have in their kitchen arsenal!  Be a kitchen genius with some of these books!
I seriously love cookbooks BUT I'm very particular about what I buy. I don't buy them to collect but rather I buy them for inspiration, education, knowledge and deliciousness. With the holidays 2 weeks away I've put together my favorite cookbooks of 2017 (and a few prior that still ROCK!) as one of those last-minute-foodie-gifts!  If you're a foodie or know a foodie then trust me, THESE are the cookbooks that they need (and want!)
So what makes a good cookbook?
First, recipes. No I'm talking GOOD recipes. You know the kind that you put your pieces of paper in the pages to flag it to make. The ones that don't require 473 steps, 63 ingredients and 8 days to make. Second, creativity. Chicken Soup is chicken soup is chicken soup. I'm all for seeing your Aunt Susie's prize winning soup recipe but I also want to learn something new, creative and inspiring. Third, photos. We eat with our eyes before we even decide to make a recipe. Truth is, if it looks like garbage, most are less apt to make it. With that, check out some of my favorite cookbooks I'm RAVING over this year!  These are the books every foodie should have!
Get out of that same ol' recipe rut and try one of these delicious and easy recipes this week! This week I highly recommend making the Sheet Pan Smoked Kielbasa with Herbed Potatoes and Green Beans and the Double Chocolate Flourless Brownies!
Happy Sunday TKW Family!  Brrrr it's finally cold here in Pittsburgh! We still haven't had snow yet; just a few flurries. But did you see that Atlanta got something like 9″ the other day. North Carolina as well got hit with snow yet we, who live in the snow belt got squat. Oh trust me, I'm not complaining as folks around here honestly can't drive in snow. I mean I can get it if you're new to the area and never had to deal with driving in snow but when folks who've grown up here, know the type of snow that we get and still do not get snow tires, kills me. I'm a truck girl but even if you have 4-wheeled drive and your butt is driving with summer tires, my car with snow tires will handle better in the snow. But I digress – ATL and NC – love you guys but you can keep the snow!  Merry Christmas!  LOL
Last week…. God what a blur. When you work in IT, there really is no down time. While most companies slow down around the holidays, IT never sleeps or stops. Even though we're going into a code freeze (which means no production changes can be pushed through for 4 weeks), this is my super, SUPER busy time. I have to map out my projects for the next year, define my strategies and define the road map. Oh yeah, all the while fitting in my end of the year vacation. But I can't complain too much as I have a job and more importantly I have a job that I actually really love.
Thursday night was an eventful night in my house. With us both being engineers we can never do things easy. We have to analyze stuff (to death), bring out our calculators, engineering paper and honestly, if we had a whiteboard in the room, that would have been brought out too. You see we're finally at the point where we can start decorating (and using) the media and billiard room. Which meant we needed to buy a tv. We bought the tv and it was to be delivered the next day. Us, being us, we had to calculate the optimal viewing angle and distance for a 75″ tv. It got bad – like 3 hours bad. We literally broke it down to writing out equations trying to find the tangent and tilt ratios of the tv. 3 hours…
This shop has been compensated by Collective Bias, Inc. and its advertiser. All opinions are mine alone. #TeaProudly #CollectiveBias
These Honey Lemon Madeleines are soft and tender cake-like cookies that pair perfectly with your freshly brewed cup of Bigelow Constant Comment tea! 
Madeleines are one of those desserts where it's a cookie but it's a cake at the same time. You see the texture is a cross between a cake for the crumb and texture but is made as a cookie with an ever-so-slight crisp edge. They appear to be super delicate and something that belongs in a French bakery. However, you don't have to live in Paris to have them nor do you have to travel to a bakery to get them. You can make these at home and bring a little bit of Paris to you!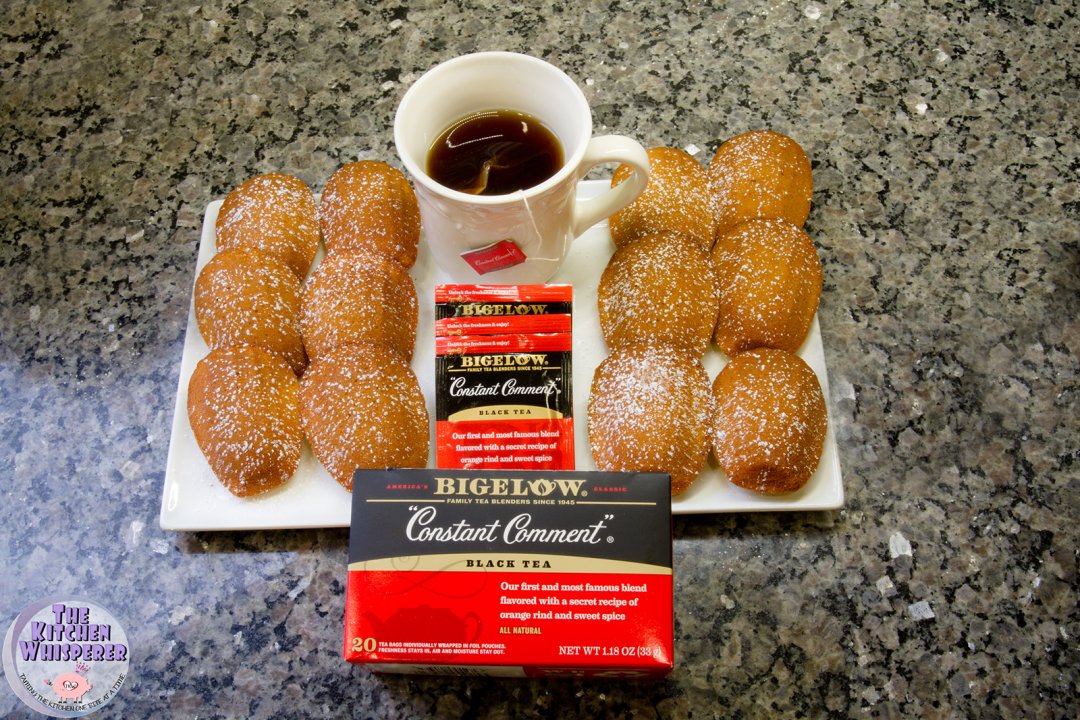 First thing is you need to get yourself some Bigelow Tea! Hover over the picture above to click through to Walmart.com and buy it! While you're there grab the rest of the ingredients to make these delicious madeleines!
Pour a cup of Bigelow tea and join me for a chat!