Archive for the 'Breakfast' Category
This shop has been compensated by Collective Bias, Inc. and its advertiser. All opinions are mine alone. #OwnWhatYouEat #CollectiveBias
Gosh 2018 already!  Let's make 2018 OUR year!  Let's make a list of what we want to accomplish, no matter how big or how small and let's check everything off that list! You can start small taking it day by day to 'things I want to accomplish this year'. Own 2018 folks. And OWN IT with Kellogg's Special K®! Life is anything but simple for most of us. Many are working at least one job then when you add in family life, activities, errands, responsibilities and everything else, we often don't take the time for us. Well I'm sorry but that needs to stop – myself included! I work 3 jobs –  yes 3. Not because I have to but because I'm one that can't sit still. I work The Kitchen Whisperer full-time, I have a full-time IT job and I also do consulting work on the side. Add in remodeling our entire house, maintaining Mr. Fantabulous' company website and regular household items there just doesn't seem enough time in the day for me.
One thing though I do make time for is delicious breakfast from Kellogg's Special K®!  Have you guys tried these items? OMG those cereals are INCREDIBLE!  Mr. Fantabulous and I were fighting over the box of Nourish. Needless to say that, along with the others will be added to my weekly grocery list. And I NEED to tell you about that Crustless Quiche and the Flatbread sandwich. Seriously, where have you been all my life!?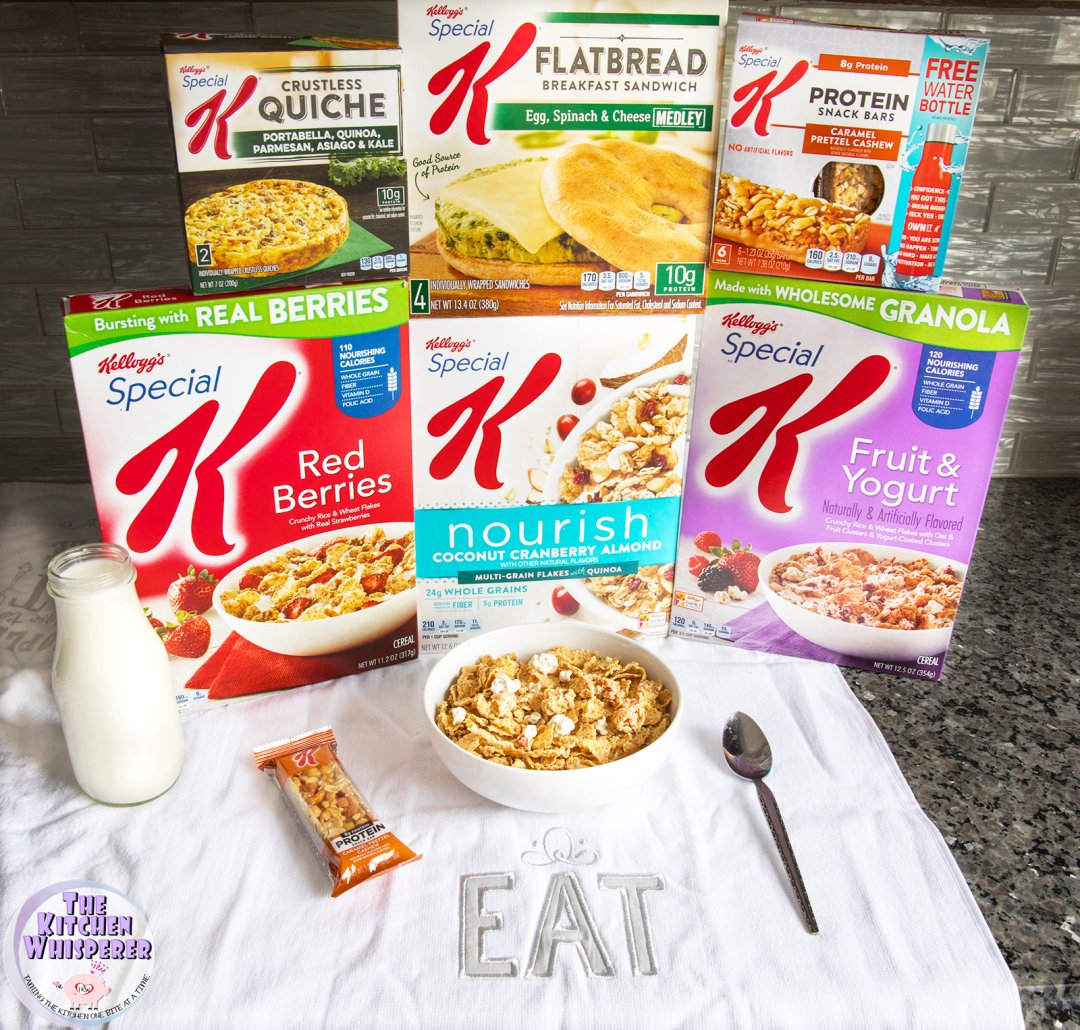 But before I go on about how amazing these items you, I need to tell you where to get them. Click on the image above to shop for these items at Target. Simply just click the tag! Trust me, buy extra!
Start off your day deliciously!
Let's be real here, breakfast is the most important meal of the day. Kickstart your morning deliciously with this Breakfast Sunrise Bagelwich! Toasted bagel topped with avocado slices, crispy bacon, dippy egg and a to-die-for spread!
So I love breakfast foods. Actually no, I lurve them to the point I'll often eat "breakfast foods" for lunch and dinner. And let me preface that by what I deem "breakfast" food as I now a few that loathe 'breakfasty' type things. Sorry but we just can't be friends…(j/k). Breakfast foods are eggs, bacon, waffles, pancakes, cereal, oatmeal and so forth. While I've been known to eat stuffed shells or roast beef with mashed potatoes at breakfast time I still want 'real' breakfast foods. However, there's nothing wrong if you eat the non-breakfasty things but how can you not like the real stuff? This, I don't get. I mean I get if you hate eggs or pancakes. But bacon?  Dude… that's just not cool. To say you hate bacon is like saying you hate kittens or babies. But regardless it's your right to hate it but um, can I have your share?
I'm also going to go on the record that this bagelwich is not something I eat every day nor recommend most folks do either as let's face it – it's seriously hearty. For me, this is my "cheat day" breakfast. But if you wanted to eat it every day first off, I'm jealous that you can, but secondly, enjoy! But full disclosure if I'm craving these daily I'll actually buy the mini bagels or the thinly sliced bagels and eat those. This way I don't feel as guilty eating a huge bagel every single day. My thighs thank me for this; yours would too I assume.
This shop has been compensated by Collective Bias, Inc. and its advertiser. All opinions are mine alone. #SandwichWithTheBest #CollectiveBias
A "Croque Madame" sandwich sounds fancy schmancy and difficult to make but with my recipe it's super easy to make and ridiculously delicious! Just 6 ingredients and you have a total 'WOW' meal!
Anytime I hear well, anything French, I think about my high school French teacher – Mrs. E. She was one of those 'cool' teachers in school that let you be a free spirit in class, pass notes and even 'share' answers. She would take our desks and put them all in a circle so we could have one large discussion. The only rule was you were not allowed to speak in English at all. Anything you said had to be in French and had to be correct. Now when you're a Freshman you learned the important things – "can I go to the bathroom? I need to see the nurse. I don't understand" and with that she worked with you. But by senior year you had to speak French as well as well, a native French person. Lord help you if you forgot one of those important things like "I have to go to the bathroom". LOL
One thing Mrs. E shared with us with her love of France was her love of French foods.  We'd often have 'French food days' in class where we'd all pitch in and she'd bring in homemade French foods or better yet, make them in class. She'd make crepes, chocolate bread sandwiches, escargot – yes she fed high school students snails (and they rocked!) and then she made us Croque Madames.
Now if you've never had croque madame or even heard of one all you need to know is that they are AMAZING and you need it in your life ASAP! Now I'll get into what goes into these beauties but when I tell you that you need one in your life/belly trust me on this.
Get your fancy schmancy on with this seriously delicious sandwich!
Move over smashed avocado toast, you're big brother is in town and taking over your favorite go-to snack!  Crispy olive oil crostini, fried egg, thinly sliced avocado, salt flakes and a few dashes of Sriracha elevate your smashed toast to a whole new level!
Oh smashed avocado dippy egg toast how I love you beyond words. You're healthy and delicious; messy and worth every napkin in the house; comforting and simplistic. However…
<deep sigh>
I've been cheating on you…
I've been loving someone else more; giving them my love and adoration. I'm not replacing you – please you will forever have a place in my heart but for the time being, you have no place in my belly.
It's not you, it's me. I just wanted to dip my toes in another pool…a pool of deliciousness. So okay peeps, you know how much I absolutely LOVE my avocado egg toast but I wanted to mix it up. While it's pretty much the same toppings as the toast making just a few tweaks totally changes the recipe into something different, something…more. I had a few bageuettes at home and they were getting a bit hard.  And while I could have turned them into croutons or breadcrumbs, I didn't need any. So I decided to just make some crostini bread for something later. I just wasn't sure what the something was.
Take your favorite go-to snack and make it a appetizer or snack show stopper!
You've not had an amazing grilled cheese sandwich until you've made this Monte Cristo!  Layers of salty ham, luscious gruyere cheese, tangy dijon mustard and sweet raspberry preserves dipped in this French toast mixture and then grilled to perfection!
I have a confession…
*hangs her head*
I've been holding out on you.  <deep sigh>  This recipe I made about a year ago *ducks to miss the shoe that someone just threw at me*. I'm sorry, I'm sorry, I'm sorry. For the past year I kept saying to myself "You have to post that sandwich. You need to get your butt in gear and post this. People will flip over it!" But I didn't listen. Honestly there is no real reason why held out on sharing this.  Monte Cristo sandwiches aren't a new thing but for some reason I posted everything but this. Like we're talking recipes I literally just created, took the photos the same day and posted the recipe the next day.
I suck, I know.. but you still love me… right???
And I guess while I'm treating this like church, I might as well confess one more thing.  Mr. Fantabulous does not like this but he does not hate it either.  What that means is he refused to try it; not even a single bite. He said and I'm quoting here "That is NOT French Toast, that is NOT Grilled Cheese.  That is a Frankenstein concoction that I will not be a part of."  Frankenstein?  I didn't exactly create a monster here dude.  LOL big baby!
I'm telling you, make this once and you'll be making this a thousand more times because you'll fall in love with it!