Archive for the 'All Sweets & Treats' Category
Creamy? ✔ Dreamy? ✔ Chocolatey? ✔ Fantabulously Delicious? ✔ You owe to yourself and everyone you love to make this pie!
This pie and I go back decades. Like we're talking first broken heart, decades. This pie has seen me at my very worst where I'm a blubbering fool swearing off dating and boys forever to my first real kiss. This pie has seen the good, the bad and most definitely the ugly – hello stir-up pants, shoulder pads, mile-high hair and bright blue eye shadow ugly. Ah the 80's… good times. TERRIBLE fashion but phenomenal music from pop, old school rap and dude— HAIR METAL!  LOL Sorry, going off topic here. Man I loved the 80's though.
Anyway… back to this pie. Dare I call it my bestie? Can a food be a bestie? Yes I know "eating to soothe feelings is not right and can lead to blah blah blah". I get it. But when you're 14 years old and you have your heart-broken by that guy you had been crushing on all year only to hear he asked someone else to the dance instead of you… yeah, this pie was needed.
I can still remember getting off the bus that day, eyes all puffy and watery trying to fight back the tears on the bus. My oh-so-perfect-makeup <shakes her head no it wasn't… I looked like a clown looking back on those pictures> pretty much wiped off and mascara smeared on my cheeks. As I walked into the house and Mom asked me if my crush had asked me, I ran to my room in tears. Slamming the door, blaring some sappy song, sprawling on my bed and having what seemed to be the worst day in my life.
To all the heartaches, thank you as you made this pie possible!
A super light and creamy no bake cheesecake dessert that is perfect for a holiday dessert or a gathering with friends!  Top with your favorite cheesecake toppings and dig in!
With Christmas being 4 days away desserts are one thing that I always get asked to bring when we visit friends. However when I have friends over I tend to keep dessert a bit more simple because while I'm running around the house like a mad woman trying to clean, sweet, pick up crap, make food and do 9 million other things, making elaborate desserts are honestly last on my list. This no bake cheesecake is so simple yet it looks so incredibly elegant and the best part about it, is I love to set this up with a cheesecake bar where my friends can top their cheesecake with their favorites treats!
Case in point, we're having friends over tomorrow night and let's just say my house looks like a bomb went off in it. So while I'm running around getting the house picked up as best we can considering we're still under construction and I'm fighting off a sinus infection, I need to figure out the foods. I'm keeping the main stuff simple – sheet pan pizza, spinach and artichoke dip, barbacoa nachos (they went nuts over them last time) and these parfaits. Truth be told I've not really baked any Christmas cookies for us. I just haven't had time.
This shop has been compensated by Collective Bias, Inc. and its advertiser. All opinions are mine alone. #TeaProudly #CollectiveBias
These Honey Lemon Madeleines are soft and tender cake-like cookies that pair perfectly with your freshly brewed cup of Bigelow Constant Comment tea! 
Madeleines are one of those desserts where it's a cookie but it's a cake at the same time. You see the texture is a cross between a cake for the crumb and texture but is made as a cookie with an ever-so-slight crisp edge. They appear to be super delicate and something that belongs in a French bakery. However, you don't have to live in Paris to have them nor do you have to travel to a bakery to get them. You can make these at home and bring a little bit of Paris to you!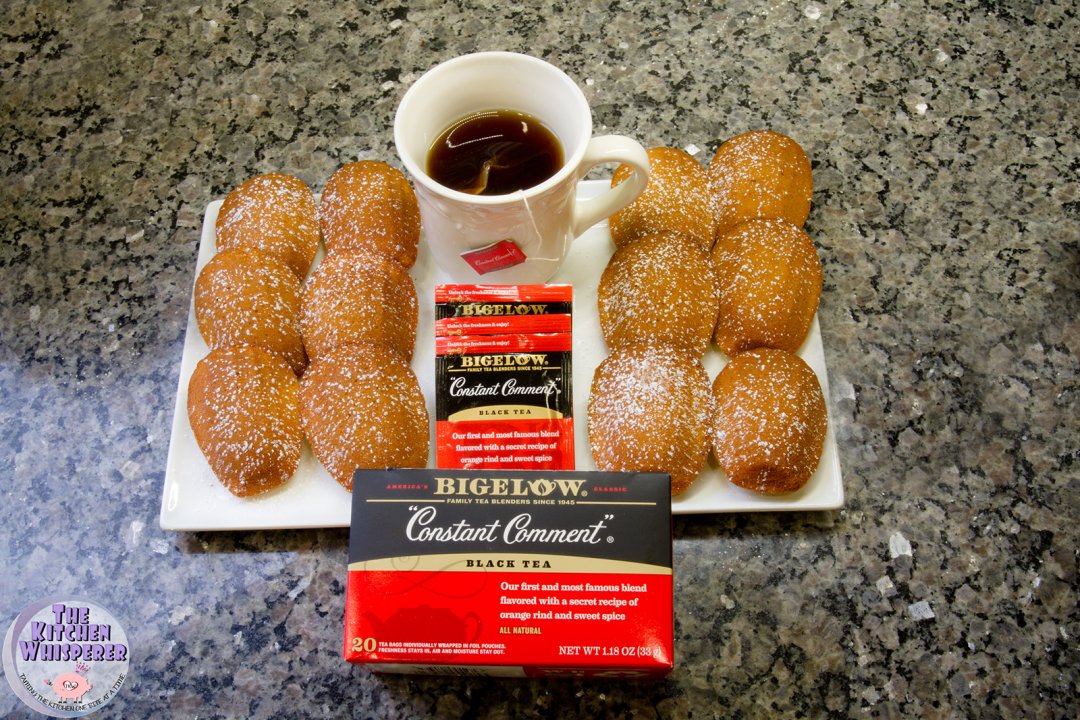 First thing is you need to get yourself some Bigelow Tea! Hover over the picture above to click through to Walmart.com and buy it! While you're there grab the rest of the ingredients to make these delicious madeleines!
Pour a cup of Bigelow tea and join me for a chat!
Aunt Nettie's Orange Nut Cake quickly became one of our most favorite cakes ever with such incredible flavors of orange, cranberries and nuts. It's truly stunning and fantabulously delicious!
This post is being sponsored by Nordic Ware® featuring their Heritage Bundt Pan and the "Bundt Cake Bliss: Delicious Desserts from Midwest Kitchens" cookbook. All opinions of these ABSOLUTELY AMAZING products are mine.
This cake guys, oh my goodness guys, this cake!   In 2 weeks I made it twice because it's THAT GOOD! It is the perfect winter cake and one that every holiday table needs! This cake is dense but so incredibly tender and moist. This is that cake, that when you walk past it, you have to stop and slice off just the teensiest of slivers because you can't help yourself. And this is that cake you purposely walk past it 47 times just to get that teensiest of slivers before you have a real serving for dessert. I mean those slivers don't count, right? I mean it's not a real slice of cake. It's a sliver after all. LOL
This cake comes from an incredible cookbook by Susanna Short titled "Bundt Cake Bliss: Delicious Desserts from Midwest Kitchens". They partnered up with the Minnesota Historical Society  published this wonderful cookbook.  Nordic Ware® partnered up with the Minnesota Historical Society to help share their state's stories while connecting people with history in meaningful ways.
Taking PB&J to a whole new level! Crunchy chocolate pretzel crust, raspberry awesomeness, creamy 'butter' filling, and decadent chocolate ganache make these bars over the top CRAZY!
So this recipe is one of those "I need something sweet and I don't care if I have to eat peanut butter out of the jar" type of recipes. Actually full disclosure, that's how this recipe came to be. I was starving and wanted something sweet but also something fast. Peanut butter!  Peanut butter is my go-to dessert/sweet/protein/just-get-it-in-my-mouth-as-fast-as-possible food. I was in my kitchen, working on some recipes but didn't have time to make myself something real to eat so out came the spoon and jar of peanut butter.
Yes, I'm one of THOSE people who eat peanut butter out of the jar. It's my jar so I can do whatever I want. So I'm sitting there, happy as a little piggy with a newly found mud puddle when I "accidentally" grabbed the spoon from the jar of cookie butter. It wasn't intentional though I can't say if it wasn't subliminal. Anyway I was like "OH! Well that's a nice surprise!" You see I was working on my Ultimate Cookie Butter Cream pie and had it out along with a big bowl of ganache at the time.
So there I am, in the kitchen a spoon in each hand and a fretted look on my face as I really needed a third hand to scoop the ganache. That's when I decided to whip up a few buckeyes. Well about halfway through making the filling I decided to incorporate the cookie butter and then I realized I needed a textural element thus the pretzels. See while I like traditional buckeyes, I prefer a crunch to them so often I'll add pretzels to it or rice cereal.
Whether you go straight cookie butter, peanut butter or both, you're going to love these bars!