This shop has been compensated by Collective Bias, Inc. and its advertiser. All opinions are mine alone. #OwnWhatYouEat #CollectiveBias
Gosh 2018 already!  Let's make 2018 OUR year!  Let's make a list of what we want to accomplish, no matter how big or how small and let's check everything off that list! You can start small taking it day by day to 'things I want to accomplish this year'. Own 2018 folks. And OWN IT with Kellogg's Special K®! Life is anything but simple for most of us. Many are working at least one job then when you add in family life, activities, errands, responsibilities and everything else, we often don't take the time for us. Well I'm sorry but that needs to stop – myself included! I work 3 jobs –  yes 3. Not because I have to but because I'm one that can't sit still. I work The Kitchen Whisperer full-time, I have a full-time IT job and I also do consulting work on the side. Add in remodeling our entire house, maintaining Mr. Fantabulous' company website and regular household items there just doesn't seem enough time in the day for me.
One thing though I do make time for is delicious breakfast from Kellogg's Special K®!  Have you guys tried these items? OMG those cereals are INCREDIBLE!  Mr. Fantabulous and I were fighting over the box of Nourish. Needless to say that, along with the others will be added to my weekly grocery list. And I NEED to tell you about that Crustless Quiche and the Flatbread sandwich. Seriously, where have you been all my life!?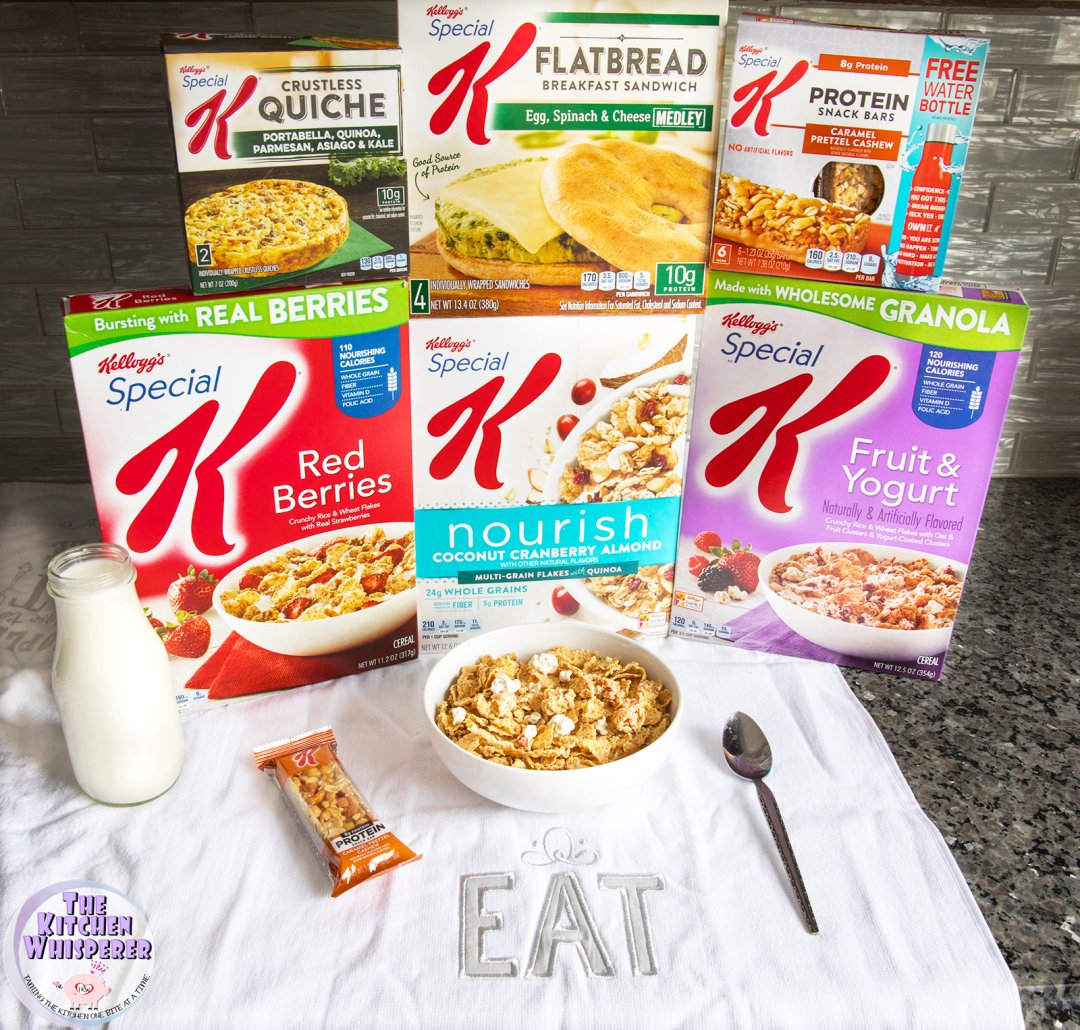 But before I go on about how amazing these items you, I need to tell you where to get them. Click on the image above to shop for these items at Target. Simply just click the tag! Trust me, buy extra!
Start off your day deliciously!
"Donuts – An excuse to eat cake for breakfast!"  For those days when you need something so sinful that you *almost* feel guilty about eating it…. ALMOST.  These Chocolate Chunk Donuts with Fudgy Ganache Glaze should be illegal they are so good!
So did you ever get this idea in your head about something you want that no matter what you make, if it's not that vision of what you have in your head, you're not satisfied?  Being a food blogger/chef, that happens to me often. I get this image in my head of "Hey this combination would ROCK" and I don't stop until I make it and get it right. I've actually woken up from a sound sleep from a dream about food and either have grabbed my notepad that I keep next to my bed to write down the "recipe" from my dream or I'll go out to the kitchen and make it.  Yes, in the middle of the night…in my pajamas…with witchypooh medusa hair.  LOL
I've actually had several recipes that I've posted that are results of dreams I had. It's a curse and a blessing to be honest.  My mind never stops to be honest.  I dream every single night, in color and they are very vivid.  Most are good but deep – very intricate, some scary and some odd. Most of the time it's about every-day stuff (I take my work to bed with me) and there is always food in my dreams. The food may be in the background of the dream but it always sticks in my brain when I wake up.  Well this donut was part of a dream.

The dream was around my doing some book tour for my cookbook (though in my dream I never actually saw the book or the contents but yet it was my book and I was doing food demos for it – wishful thinking!).  Well in my dream I was in some diner in Georgia that was in even a more rural town than then one I live in.  I was driving with my one girlfriend (Mr. Fantabulous was meeting us there) and some how we got lost.  And since we were in the country, we didn't get GPS/cell signal.  It started to get late and we decided to find some place to stay.
Sweet dreams are made of these…donuts that is!
So I'm one of those 'weirdos' that really doesn't care for pancakes, french toast or waffles. Well let me rephrase that.  I LOVE LOVE LOVE the first 2 bites of each of them but anything more than that feels like a brick is in my stomach. Even with my pancakes and waffles being super light and airy, it still just kills my stomach.  Growing up, same thing.  Every Saturday and Sunday Mom would make huge stacks of pancakes and French toast along with dippy eggs and a few pounds of bacon (I came from a big family who could eat!).  I'd see those glorious items stacked on my brothers plates with butter melting down the sides and pure maple syrup slowly being poured over top.  I'd put one on my plate and by bite 3 I couldn't eat anything, not even the bacon.  Talk about a tragedy!
For years when I moved out on my own I never made those things.  Well along came Mr. Fantabulous into my life and unreal ability to inhale massive amounts of food and not gain a single ounce <hate him>. Now like any one you want to date, you do everything you can to impress them. The thing is, I didn't have to 'try' with him. It just came natural. Him being in my life and just being there was right; it was meant to be.
So SOMEONE (not mentioning any names… darling sister Dianna) said the 'C' word to Mr. Fantabulous.  The 'C' word in my house is Crepe.  See Mr. Fantabulous LOVES crepes beyond words. Now it wouldn't be such a big deal if he ate a normal amount however there is nothing normal about his consumption of these.  At a minimum I have to make 12 at a time.  He literally inhales these and most often does what he can to stand next to me at the stove, 2 crepe pans going at once eating them as soon as they come out.  And God forbid someone does mention the 'C' word (darling sister dear) and I don't make him them that day.  You'd think I done shot the dog, deprived him of Christmas and wrecked his Camaro. Yes folks I married a man-child. LOL  No seriously it's our playful little ways with each other.  It makes life fun and cute.
So as I made him my Classic French Crepes I decided *I* wanted to play with the recipe a bit for me. I mean I get tired of the same 'ol, same 'ol. Plus I wanted chocolate… for breakfast. Hey!  Don't judge me!  Women are allowed to have chocolate for breakfast! It's like the law or in wedding vows.. or something like that.
FYI… chocolate is acceptable ANYTIME of the day!
Fall is in the air and I LOVE IT!!!  The leaves are changing, the days are still warm enough that you really don't need a jacket but you could get away with a light denim one or even long sleeves.  The evenings are cool and crisp where all you want to do is light a fire, snuggle up with your baby and be all lovey-dovey.  Saturdays are meant for college ball and Sundays are meant for Steelers games.  I can remember when I was little, we're talking wee little Dad would pile us into the car, Mom would pack enough food for a week and we'd drive up towards Laurel Highlands and the mountains here (about an hour from Pittsburgh) right when the leaves were starting to change. We'd drive around using up almost an entire tank of gas (back when it didn't require you to take out a 2nd mortgage to fill up your car!), hit up every backwoods country road and pretty much get lost for a day.
What I used to love about that is that Dad always made it my responsibility of which way we turned. He'd claim he was lost and that it was my job to get us out of there.  I had to decide to turn left or right at an intersection.  Often times we'd end up on a dead-end dirt road and Dad would look at me to help get us out of there.  I was scared but thrilled as well because that meant *I* was a big girl and could 'save us'. We'd pull over in the middle of nowhere and Mom would set up a picnic table with her blue vinyl checkerboard table-cloth, paper plates, utensils and food.  It was always egg salad, pb&j for me, a bag or 2 of chips, soda, cold baked beans, potato salad and cake. I'd hurry up and eat my sammich and then go explore a bit in the woods.  Now my version of exploring is to not go too far, always keep them in my sight and no where near anything creepy or crawly.  I'd come back to the table with a folded over shirt full of pretty leaves, colored rocks and nuts from the ground. The one year I came running back to the table as fast as my chubby little legs would let me screaming "Daddy I found marbles!!!"  and as I pulled them out of my pocket he belly laughed so hard that it echoed through the mountains.  Here they weren't marbles but um… bunny turds.  LOL shush, quit laughing!  HAHA  It kinda explained why they were kinda soft and well dirt colored.
We'd get home all tired from our adventure and unpack. Dad would be tired and go take a nap while Mom would put the stuff away in the fridge.  I'd run to my room grab some plain paper and my ginormous gallon bucket of crayons (know those 1 gallon plastic buckets you can buy ice cream in?  Mine was FULL of crayons!). I run as fast as I could back to the kitchen table where all of my treasures were.